Today, Sam Bickert and Jeremy Tiedt led our team building time with       " How do you use your strengths?"  Earlier in the week students took the Strengths Finder test online.  Students discovered their top 5 strengths.  During the team building time today students participated in activities related to the results of Strengths Finder test.
Students created a coat of arms using their top 5 strengths.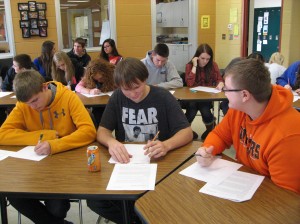 Students taped a paper hand to their backs.  Then had to go around the room and write positive qualities on the hand of their peers.